Years

2016-2018

Timeframes

1 to 16 weeks

Teams

Solo projects to 12 people

Goals

Strategic prototyping with an emphasis on XR tools
Background
As a software engineer on the Advanced Technology Interactives (ATI) team at Universal Creative, I had the opportunity to contribute to a wide range of prototypes and experiments across the company from 2016-2018. While the vast majority of these projects were never released to the public, I can share some small glimpses from those which were.
Selected Work
Final Fantasy coaster (entrance pictured above)
I built a design review tool for the Universal Studios Japan (USJ) Final Fantasy VR coaster in collaboration with the attraction development team. Final Fantasy was a temporary installastion as part of USJ's Universal Cool Japan event in 2018.
Hotel Visualization
I built a VR visualization of the Aventura hotel for a marketing event, in collaboration with a Universal 3D artist and our Hotel Marketing team. The artist built the scene, and I optimized it for VR and scripted the camera teleporting and fade.
I developed the Aventura Hotel VR Tour with an artist in 4 weeks
Architecture Visualization
By far my most common request was to help architects and designers visualize projects. We experimented with many techniques and workflows depending on the project needs, and I learned a lot about architectural needs such as preserving Building Information Modeling (BIM) and other data across various software applications.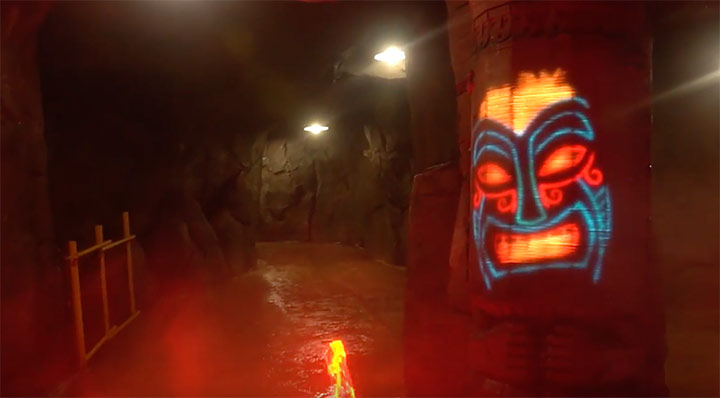 I helped the design team visualize this space before construction began
The Repository
The Repository was a family-friendly puzzle horror experience designed as part of Universal Orlando Resort's Halloween Horror Nights event in 2016. The experience consisted of three parts:
an immersive theater experience with live actors
a VR experience designed as a series of short puzzle vignettes
a 3-minute fixed-duration escape room. If you lose, your soul is trapped in the Repository forever!
I joined Universal in mid-development of this experience, and gradually ramped up as a contributor through the project phases of development, operation, and documentation. Our team generated some press buzz at the time, and the event was an exciting learning experience for everyone involved.
Universal's trailer for The Repository